On March 11, 2014, Associate Justice of the Supreme Court of the United States Sonia Sotomayor honored Portland and the United States Court of Appeals for the Ninth Circuit by visiting the historic Pioneer Courthouse. Justice Sotomayor's visit was coordinated by Ninth Circuit Judges Diarmuid F. O'Scannlain and Susan P. Graber.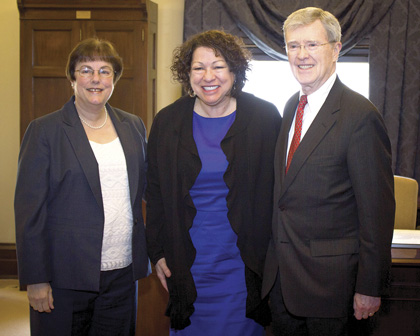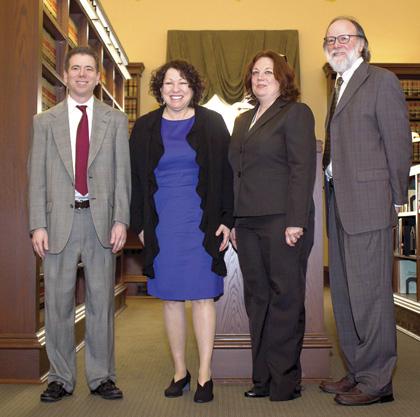 Justice Sotomayor arrived at the historic Pioneer Courthouse at noon on March 11 and was greeted by Judge O'Scannlain and Judge Graber. Regrettably, Judge Edward Leavy was unable to be present, judicial business having taken him out of town. Judge O'Scannlain and Judge Graber then led Justice Sotomayor on a tour of the courthouse assisted by Senior Deputy Clerk Robert M. Walch. The Judges pointed out and discussed the interpretive panels placed throughout the courthouse, illustrating the history of the United States Courts, the Ninth Circuit, and the Pioneer Courthouse. During the tour, the Associate Justice also visited each of the resident chambers and court offices where the Judges' law clerks, judicial assistants, and court staff were introduced to the Justice. Justice Sotomayor particularly admired the portraits of past and present Ninth Circuit Judges, the historic Court of Appeals courtroom, the library, and the historic postal lobby, pausing briefly to sign the courthouse visitor book with the following entry, Sonia Sotomayor, U.S. Supreme Court, "With admiration for the majesty of this Courthouse."
Justice Sotomayor, Judge O'Scannlain, and Judge Graber were later joined by chambers and court staff, Board members of the Pioneer Courthouse Historical Society, and Kerry Tymchuk, Executive Director of the Oregon Historical Society for a special Pioneer Courthouse Brown Bag Luncheon in the Matthew P. Deady Courthouse Conference Room. Over lunch, Justice Sotomayor spoke about her recently published autobiography, My Beloved World her life as a Supreme Court Justice, and then graciously answered questions from staff and guests before having to depart to speak at a local middle school. Justice Sotomayor kindly posed for photographs throughout her visit with the Court. She delighted everyone with her warm and engaging manner and left an enduring impression with everyone whom she met.
Later that evening, Justice Sotomayor spoke again about her autobiography at the Arlene Schnitzer Concert Hall. January 6, 2014 marked the beginning of the Multnomah County Library's 12th annual community reading program, Every-body Reads. This year, My Beloved Worldwas selected to be the focus piece of Everybody Reads, which concluded with the Associate Justice's visit.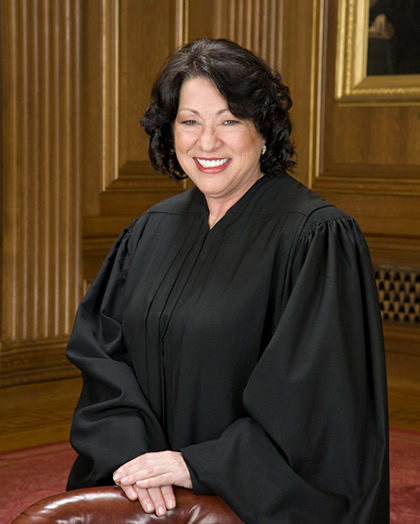 Biography
Associate Justice Sonia Sotomayor was born in Bronx, New York, on June 25, 1954. She earned a B.A. in 1976 from Princeton University, graduating summa cum laude and receiving the university's highest academic honor. In 1979, she earned a J.D. from Yale Law School where she served as an editor of the Yale Law Journal. She served as Assistant District Attorney in the New York County District Attorney's Office from 1979–1984. She then litigated international commercial matters in New York City at Pavia & Harcourt, where she served as an associate and then partner from 1984–1992. In 1991, President George H.W. Bush nominated her to the U.S. District Court, Southern District of New York, and she served in that role from 1992–1998. She served as a judge on the United States Court of Appeals for the Second Circuit from 1998–2009. President Barack Obama nominated her as an Associate Justice of the Supreme Court on May 26, 2009, and she assumed this role August 8, 2009.