2003-2005 SEISMIC UPGRADE
In 2003-05 the Pioneer Courthouse underwent a 19-month seismic upgrade and rehabilitation project. Seventy-five friction pendulum base isolators were placed beneath the structure to "free" the building from earthquake action and damaging seismic forces.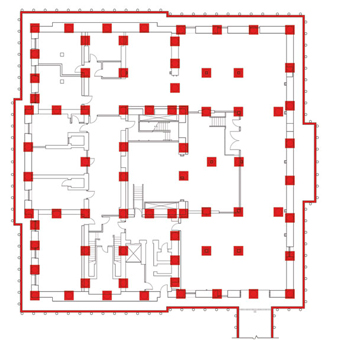 The state-of-the-art base-isolation system will dampen potentially damaging motion during an earthquake, thereby protecting and preserving the historic fabric of the National Historic Landmark building.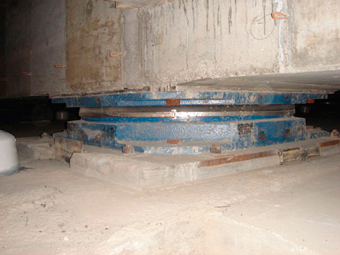 Friction pendulum isolators are sliding bearings that incorporate a spherical stainless-steel dish. A slider coated with a low-friction material (similar to "Teflon") supports the weight of the building and moves within the dish during an earthquake. The building automatically returns to its original position after the ground has stopped shaking because the slider moves to the lowest point at the center of the dish. The columns and walls of Pioneer Courthouse bear on 75 isolators below the basement concrete slab. Each isolator is approximately 4' x 4'. A four-foot wide "moat" surrounds the perimeter of the building and allows the building to move laterally 18" in any direction during an earthquake. Worldwide, approximately 2,000 buildings have been base isolated, including the Ninth Circuit's headquarters, the U.S. Court of Appeals Courthouse in San Francisco.