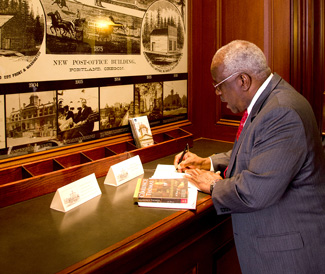 Associate Justice Clarence Thomas, of the Supreme Court of the United States, honored the Portland legal community by visiting the University of Portland and the Historic Pioneer Courthouse, home to three judges of the United States Court of Appeals for the Ninth Circuit. Father E. William Beauchamp, President of the University of Portland, and Ninth Circuit Judge Diarmuid F. O'Scannlain coordinated the visit of Justice Thomas, which was sponsored by the Garaventa Center for Catholic Intellectual Life and American Culture.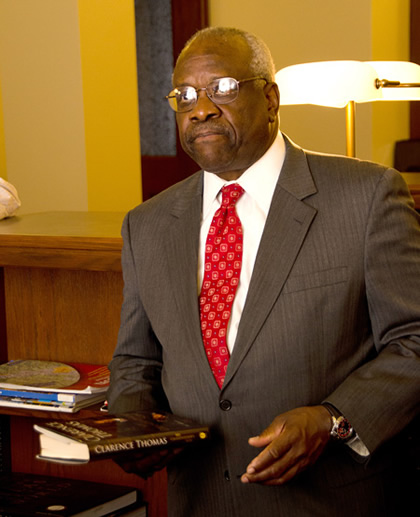 During his visit to the University, Justice Thomas was greeted by President Beauchamp before touring the University campus and visiting with Constitutional Law students. That afternoon, the Justice spoke to a crowd of 1,200 in the University's Chiles Center, an event titled "A Conversation with U. S. Supreme Court Justice Clarence Thomas, " which featured the Justice's answering questions from University of Portland political science professors Gary Malecha and William Curtis. Following the session, the Justice attended the annual Red Mass in the University's Chapel of Christ the Teacher, presided over by The Most Reverend Alexander K. Sample, Archbishop of Portland, before finally taking part in a private reception and dinner for the legal community.
Justice Thomas arrived at the historic Pioneer Courthouse around noon the next day when Judge Diarmuid F. O'Scannlain greeted him and they were joined by Judge Edward Leavy and, later, the Justice's wife, Virginia Lamp Thomas, for lunch in Judge O'Scannlain's chambers. Judge Susan P. Graber was out of town on judicial business. Lunch was prepared by Ms. Brenda Hart, Judicial Assistant to Judge O'Scannlain, and included quiche, sausage rolls, hashbrowns, green salad, raspberry sorbet, and sparkling cranapple cider. Afterward, Judge O'Scannlain led the Justice on a tour of the courthouse along with Judge Leavy and Robert M. Walch, Senior Deputy Clerk for the Ninth Circuit Court of Appeals. Judge O'Scannlain pointed out and discussed the interpretive panels placed throughout the courthouse, illustrating the history of the United States Courts, the Ninth Circuit, and the building itself. During the tour, the Justice also visited Judge Leavy's and Judge Graber's chambers, meeting and posing for photographs with the Judges' law clerks and courthouse staff along the way. Justice Thomas admired the portraits of predecessor and current Ninth Circuit Judges, the restored second floor courtroom, the library, and the historic postal lobby, pausing briefly to sign the courthouse guest book before departing.